Join Our Team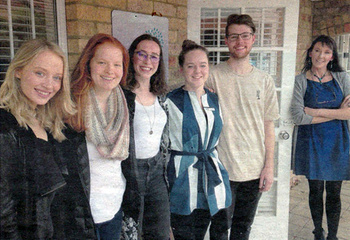 Expressions of interest for new ACES (Inc.) team members for 2022.
ACES (Inc.) is seeking expressions of interests from suitable candidates to join our team as specialist tutors (casual) in 2022. If you are genuinely interested in helping others to achieve their potential and want to work in a vibrant and positive environment as part of a high-performance team, this role may be for you.
Requirements for ACES (Inc.) specialist tutors
Successful completion of WACE (minimum qualification)
Intended (for gap year candidates), current or previous tertiary study, preferably in a related field, e.g., education, health sciences, engineering, etc.
Record of achievement in some area/s where self-discipline, a strong work ethic and resilience was required
High performance mindset, i.e. committed to continuous improvement
Ability to work as part of a high-performance team
Available for all weeks of the school terms (flexibility around examinations etc. is provided)
Available for 5 hours per week (or more) during peak periods (7 -8am and 4-7pm Monday to Friday; and Saturday).
Willing to commit to at least two years of service
What ACES (Inc.) offers specialist tutors
Competitive remuneration rates and paid training for successful candidates
Real time guidance and support from duty case manager/s
Access to an extensive range of specialist resources
Training and experience working in a professional setting, including recording field notes, record keeping, report writing, clinic procedures, statutory compliance; skills providing career employment advantages over peers.
Collegial support from highly experienced academics and current master's students and PhD candidates
Opportunities to expand your skill set and experience through undertaking specialist projects (not compulsory)
Please email your resume with a cover letter to info@aceseducation.org.au, attention Dr Eugenie Kestel.